home | travel
barry hoggard - Photographs from March on 10/19/98 to Protest Anti-Gay Violence
---
Some Informational Links
---
NYPD Cars parked on the sidewalk at the NY Public Library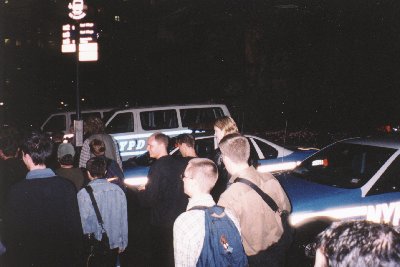 Marching south on Fifth Avenue.
Note the planters behind the cars.
Protesters were arrested during the march for being in the streets rather than on the sidewalk.
---
NYPD Cars parked on the sidewalk at the NY Public Library - another view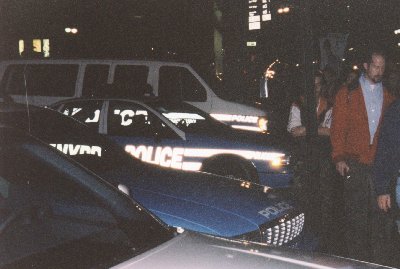 ---
Jon, Michael, Adam and Madison Galluccio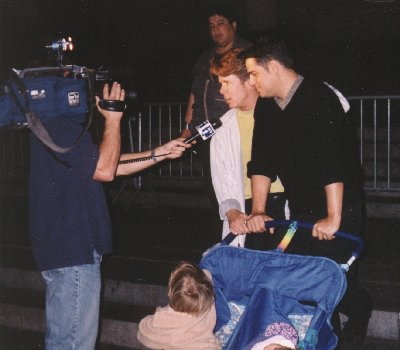 Text from their homepage:

We were the lead plaintiffs in a class action lawsuit against the state of NJ for not allowing gay couples to adopt children jointly. The state settled the case in our favor. New Jersey is now the first state in the nation to allow gay couples to adopt jointly, equal to married couples. Our son Adam was one of the first children adopted jointly by a gay couple in NJ.
---
4,000-5,000 people will not fit on the sidewalk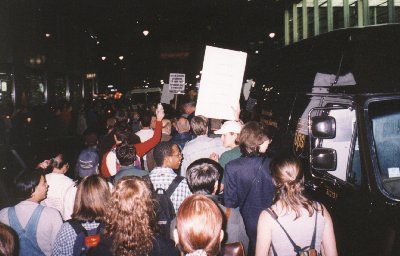 ---
Protester with sign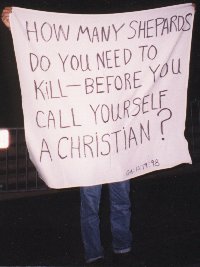 ---
Ambulances lined up near Madison Park (at the end of the march)